---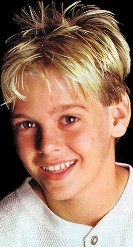 The Golden Boy
Congratulations ! On December 14, 1997 At 10:41 PM
In Cologne (Germany): Aaron Carter Received His Very
First Gold Record Award For The Single Crush On You
(Over 250.000 Copies Sold In Germany)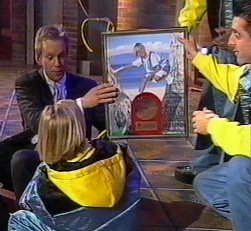 Exclusive Very First Picture: December 14, 1997
From The TV Show "Menschen ´97"
And... Congratulations Again ! Aaron Won The
Golden BRAVO-Otto 1997 As Most Popular Singer
And The HIT! Award 1997 As Singer Of The Year
He Also Won An R.SH Gold Award, Popcorn Award
And An POP/Rocky Smurf
On November 06, 1998 At 10:00 PM In Berlin, Aaron
Got The Gold Record Award For His German Album
Exclusive Very First Picture: November 06, 1998
From The Charity Show "Ein Herz Fuer Kinder"
Aaron´s Gold Record List

Gold
For "Crush On You" In
Germany (250.000)
Norway (10.000)
Spain



Gold
For "Crazy Little Party Girl" In
Norway
Sweden



Gold
For The Album "Aaron Carter" In
Spain (50.000)
Denmark (25.000)
Sweden (40.000)
Norway (25.000)
Canada (50.000)
Taiwan (25.000)
Indonesia (25.000)
Thailand (25.000)
Germany (250.000)



Platinum
For The Album "Aaron Carter" In
Philippines (40.000)
Japan



Platinum
For The Single "Aaron´s Party
(Come Get It)" In The USA



Double-Platinum
For The Album "Aaron´s Party
(Come Get It)" In The USA



Platinum
For The Album "Oh Aaron"
In The USA


In England Aaron Broke A Record, He Is The Youngest
Male Solo Artist With 4 Top-40-Singles
(And "I Want Candy" Was Another Top-40-Hit In 2000)

---